Landscape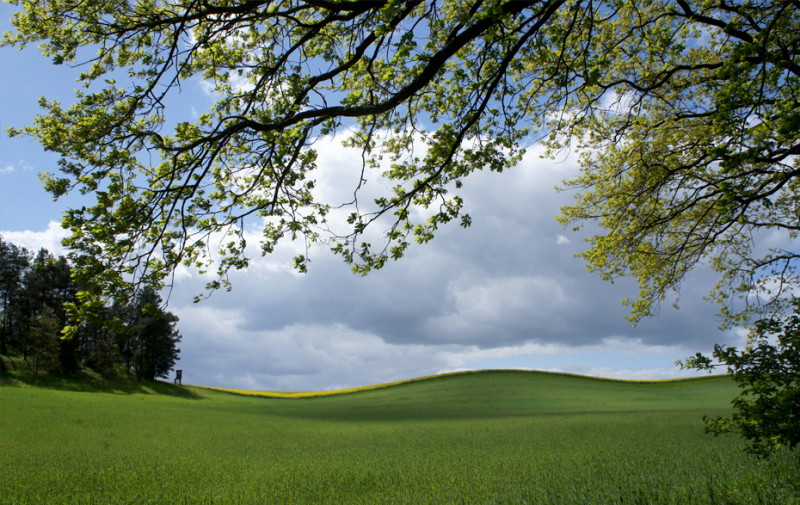 Schwedt/Oder is part of the Uckermark, Germany's largest rural district. Located between the Havel and Lower Oder Rivers, the region contains a great variety of plants and species of animals that are just waiting to be discovered. The Uckermark acquired its typical surface about 20,000 years ago, when the ice age largely created moraine plates and end moraine hills. Originally covered with forests of beeches and oaks, the moraines are mainly arable land today. It was also during the ice age that small moist biotopes developed in the valleys of the hilly profile of the landscape. Long high roads planted with chestnut and lime trees connect the villages with each other.
Schwedt was built on a terrace of a valley, and is only a little higher than the surrounding lowlands of the lower Oder valley and the Randow-Welse valley. To the east of town, parallel to the Oder branches, widely visible, steep slopes rise at the Polish side. In other directions you will find small ranges of hills that developed during the ice age. Shortly before Schwedt, a wide plain presents itself – the glacial period valley.
In order to protect meadows against floods, dikes and systems were erected to regulate the water level. As a result of this interference in the natural course of the river and due to the enlargement of the Berlin-Stettin shipping lane, two parallel waterways developed. As for its dimensions and its rich flora and fauna, the meadow landscape, lying in between with its smooth old arms of the Oder and its dry hills, is said to be unique in Europe. In the wetland area of the polders, more than 226 species of birds and 500 species of plants have been counted, among them such rarities as the sea-eagle and black stork, swimming fern and crayfish clay. Today, this area is protected under the name Unteres Odertal National Park.