Industrial Estate "Port"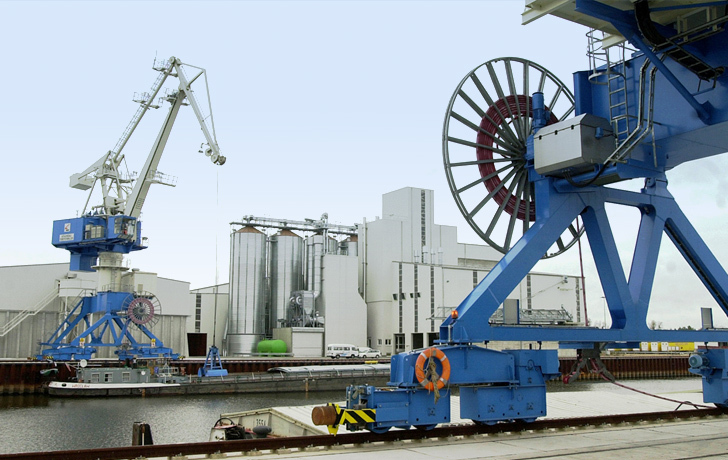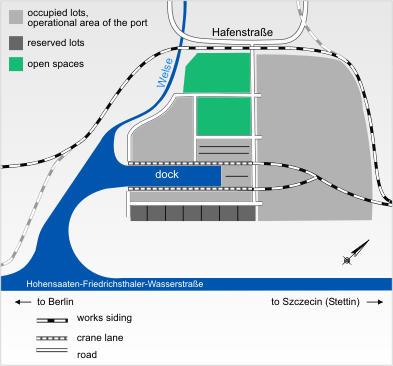 In 2001, after only two years of construction, Schwedt's port was put into operation. With an investment volume of 27 million EUR, the terminal port was built on the estuary of the Welse River at the Hohensaaten-Friedrichsthaler-Wasserstraße Canal.
The dock is 350 x 75 m. Next to the 700 m-long quay there is a 100 m-wide area for interim storage. In addition, there are 2 port cranes each with a 45 t loading capacity and a roll-on-roll-off ramp.
The fully developed, 25-hectare industrial estate "Port", which is located in the immediate vicinity of the paper industry, is suitable for closely linked industries such as manufacturers of packaging materials, printing plants, publishers, etc. The area can be divided into lots. In the area of Schwedt's port, the following firms have established themselves so far: "Schwedter Hafengesellschaft mbH", "Raiffeisen Uckermark Handels- und Dienstleistungs GmbH & Co. KG", "Trade Trans Spedition GmbH", "BSK Baustelleneinrichtungen Kuhnert", "GASAG Berliner Gaswerke AG – Bioerdgas" and "ATR Landhandel GmbH & Co. KG und Landhandel Prenzlau".